"You may not feel outstandingly robust, but if you are an average-sized adult you will contain within your modest frame no less than 7 X 10^18 joules of potential energy—enough to explode with the force of thirty very large hydrogen bombs, assuming you knew how to liberate it and really wished to make a point."
― Bill Bryson, A Short History of Nearly Everything
Leah Zimmer
Hello, I'm Leah Zimmer. I am a junior at St. Norbert College majoring in Physics and English. I love physics because every question has an answer just waiting to be found. When I'm not studying for classes or working in the lab, I love to hike, bake, and spend time with my friends and family. I also have an obsession for country music and Jane Austen novels. After I graduate from St. Norbert College, I plan to attend graduate school, earn my PhD in physics and spend my time teaching, doing research, and writing physics textbooks.
Peadar McGrath
My name is Peadar McGrath, and I am a Junior at St. Norbert College. I am majoring in physics and mathematics, with hopes of having a career in renewable energy. I enjoy problem solving and collaborating with other physics students to tackle difficult tasks. Outside of my academics, I am a swimmer and triathlete. I enjoy them because they both allow me to push myself to constantly grow in ways I never expected. After my undergraduate, I hope to pursue graduate studies in physics
Sarah Bertrand
Hi! My name is Sarah, and I'm entering my sophomore year at St. Norbert College. I am majoring in physics, and minoring in Spanish and math. In my free time I enjoy spending time with my dog, reading, and listening to music, especially classic rock. I also play the flute and think that the lamest jokes are the funniest.
Caden Stippich
My name is Caden Stippich, I'm a junior physics major at Saint Norbert College and I plan on pursuing a career in physics research. I enjoy the problem solving aspect of physics and the challenges that come along with it. in my free time I read books and watch movies with friends. After complete my undergraduate work at Saint Norbert I plan on attending graduate school.
Cullen Voss
My name is Cullen Voss, and I am a junior at St. Norbert College. I am majoring in Physics and minoring in Spanish, with plans to pursue a career in engineering. I enjoy solving problems and learning new things. I am also an avid cyclist and mountain biker. I even partake in bike races. I enjoy the fitness aspect of cycling, as well as the social opportunities. In addition, I enjoy the technical challenges associated with mountain biking. After finishing up my undergraduate degree at St. Norbert College, I plan to attend graduate school.
Gytis Blinstrubas
Hello, my name is Gytis Blinstrubas. You may wonder the origin of my name. I am 100% Lithuanian and am very proud of my ethnicity. I am a second generation American.  Currently I am a first-year under graduate majoring in physics at North Central College. When I am not studying, you can most likely find me on the golf course refining my skills or restoring my 1963 Buick Riviera. I also enjoy traveling, I am an avid hiker and outdoors man. One of my favorite places to go is the Pacific Northwest. My goals after my undergrad are to attend graduate school and to find a career that relates to my passion of the outdoors.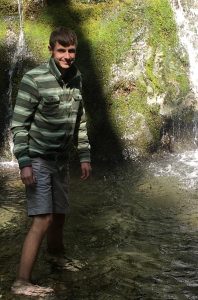 Mayson Whipple
 Hello! My name is Mayson Whipple and I'm a junior at North Central College working towards a Chemistry major and Math minor. I play basketball and run track here, so most of my time is spent studying or practicing. When I'm not busy with sports and school, I like to relax by binge watching Netflix, shopping, or hanging out with my friends. After undergrad, I'd like to attend grad school to pursue Chemical Engineering
Sven Marnauzs
 Twenty some years ago my parents moved from a small European country called Latvia, to a small town in Wisconsin called Fond-Du-lac. When I was born, my parents decide to call me Sven, and I have gone by Sven ever since. I am currently attending North Central College as a first-year undergraduate majoring in Physics and Computer Science. In my spare time, I enjoy being outside or playing Hockey, so I'm a fan of the winter when I can do both. My future plans are to attend grad school and find a career and life that I love.
Allison Pales
Hello! My name is Allison Pales, but I also go by Allie or Boss. I am a junior at North Central College and am currently working towards a double major in Physics and Engineering. While my love for physics is lit by an eternal fire inside my heart, I also enjoy a variety of other hobbies. Food is essential to life and happiness; I love to cook for myself and others. In order to enjoy as many delicious treats as I like, I stay active by working out, hiking, and meandering through shopping malls. Despite this busy schedule, I still find time to relax through Sudoku puzzles and Netflix.
Dean Edson
Brenden Kelly
Joe Liberko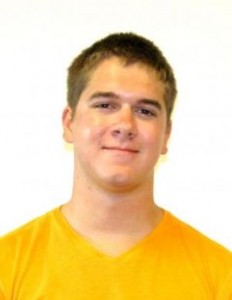 My name is Joseph Liberko and I was raised in the small Midwestern town of Mount Vernon, Iowa. I'm from a family of 7 having two brothers and two sisters. I am a rising junior here at Lawrence working towards a Physics major with a minor in mathematics. When I need to take a break from academics, I enjoy playing a round or two of disc golf. 
Cody Poole

My name is Cody Poole and I hail from the city of Rosemount, Minnesota outside the twin cities. I'm in the class of 2017 working towards a double major in physics and mathematics. Outside of academics, I enjoy bowling and gaming. I also enjoy a good intellectual argument.
Gus Lowry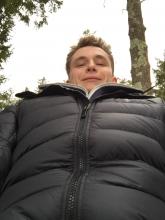 My name is Gus Lowry. This is a picture of me pretending to be a banana. My favorite color is yellow. Those two things are unrelated. I am a rising sophomore from the studio of Stefan Debbert in pursuit of a Bachelor of Arts in chemistry and biochemistry. I am from the lovely city of Minneapolis, Minnesota. I am also the captain of the Lawrence University Nordic ski team and, as that title suggests, I am probably one of the few people at LU who is happiest during the beautiful (and lengthy) season of winter. The few things I like more than large snowfalls are cooking, singing along to Justin Timberlake, and wearing Crocs with wool socks of course.
Ben Clark
Benjamin Clark was raised in St. Louis, Missouri. He is entering his third year as an undergraduate student at Lawrence University, working towards a physics major and a chemistry minor.
Erika Roedl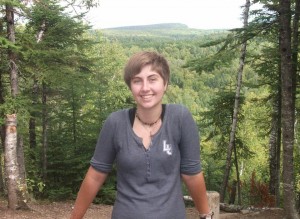 My name is Erika Roedl; I like the outdoors, I am a vegetarian, and I am a Physics major. I also have a minor in Spanish, but I plan to go into electrical engineering. My favorite books are Kurt Vonnegut's Cat's Cradle and Virginia Woolf's A Room of One's Own, and I'm currently reading A Brave New World by Aldous Huxley. My favorite movies are Die Hard and Better Off Dead. Back home in Minneapolis, MN, I have two dogs that I miss dearly, along with my mom, dad, and little sister. The photo of me was taken near Cascade River Minnesota State Park, on the North Shore of Lake Superior.
Leo Sussman
Leo Sussman is a double-degree candidate from San Francisco, CA, with majors in physics and flute performance. He is entering his fourth year.
Cooper Sinai-Yunker
Cooper recently graduated from Lawrence with B.A. in physics and is moving back to Seattle, Washington to head a start up company developing software for consumer use.  Cooper played soccer while a student at Lawrence and plans to continue with the sport as a player and referee.